Posts shared more than 1,000 times on Facebook claim that Nigeria's President Muhammadu Buhari died and was replaced by a Sudanese body double. AFP Fact Check has repeatedly debunked rumours of Buhari's demise – often spread by supporters of a separatist movement in southeast Nigeria as part of their secession campaign. The latest claim circulating online is attributed to a Nigerian senator and member of the ruling All Progressives Congress (APC). But AFP Fact Check found no public trace of him making any such comments and the senator himself has rejected the allegation.
Two Facebook posts shared a combined 1,900 times (archived here and here) purport that Buhari died in 2017 and was replaced by a Sudanese lookalike the same year. They feature a picture of Nigerian senator Rochas Okorocha, citing him as a source for the claim.
The claim was posted on June 15, 2022, days after Okorocha lost a bid to be nominated as the APC's candidate in Nigeria's presidential election scheduled for February 25, 2023.
Bola Ahmed Tinubu, a former governor of Lagos State in southwest Nigeria, won the primary with 1,271 votes out of the possible 2,322 votes cast. Okorocha received no votes.
Buhari urged other aspirants to unite behind Tinubu after he was declared the winner.
Screenshot of one of the false Facebook posts, taken on June 15, 2022
The senator's spokesman Sam Onwuemedo told AFP Fact Check that Okorocha did not make any statement about Buhari dying and being replaced by a lookalike. Buhari himself refuted the claim in 2018.
Old claims from 2017
The claims that Buhari died began surfacing in 2017 after he returned from medical leave in London.
Buhari made three medical trips to London between January and September 2017.
An earlier AFP Fact Check debunk found out that the earliest mention of the claim was made in a video posted by Twitter user @sam_ezeh on September 3, 2017, less than a month after Buhari returned to Nigeria from his second medical trip that year.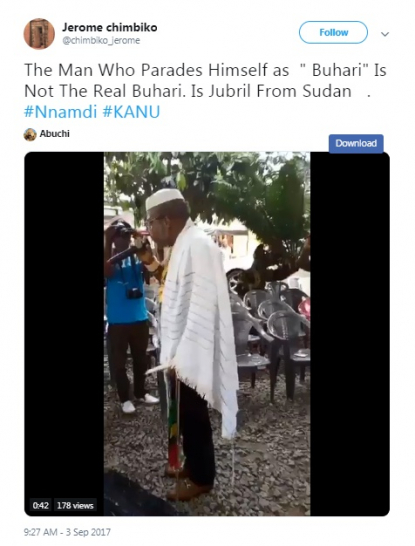 Screenshot of the earliest mention of Buhari death claim, taken June 21, 2022
Reno Omokri, a former spokesperson to former Nigerian leader Goodluck Jonathan, also cast doubt on Buhari's identity in a tweet he shared on September 29, 2017, four days after Buhari returned from his third medical trip.
A screenshot of Reno Omokri's tweet questioning Buhari's identity, taken June 21, 2022
The claim circulated again in October 2020 in the wake of anti-police brutality protests in major Nigerian cities. On October 20, 2020, Nigerian forces opened fire on a protesting crowd at Lekki toll gate, Lagos.
Buhari did not immediately speak about the shooting later dubbed the  "Lekki Massacre". He eventually spoke about it in a televised address on October 24, 2020. But he did not directly address the shooting.
An earlier debunk done by AFP Fact Check found that the post alleging that Buhari was dead appeared during the 48 hours between the Lekki shooting and Buhari's TV appearance.
No evidence of Buhari's death
When he returned to Nigeria in March 2017 from a medical trip to London, Buhari told journalists that he had been extremely sick and had a blood transfusion.
Since the claims began circulating, Buhari has made multiple public appearances, attended meetings of heads of nations and made televised addresses. In June 2022, he attended the West African leaders' summit on junta sanctions in Ghana. He was also at the venue of the ruling All Progressives Congress's presidential primary in Nigeria's capital city Abuja. 

The All Progressive Congress presidential flagbearer, Bola Tinubu (middle) is flanked by Nigeria's President Muhammadu Buhari (left) and APC Chairman Abdullahi Adamu (right) after the party announces Tinubu as the winner of its presidential primary on June 8, 2022. AFP/Kola Sulaimon ( AFP / KOLA SULAIMON)
Why is the claim circulating again?
The two Facebook accounts that posted the latest claims have a history of publishing posts that are sympathetic to the cause of the Indigenous People of Biafra, a separatist group pushing for the independence of Nigeria's southeast region. The leader of the group, Nnamdi Kanu, has alleged in the past that Buhari died and was replaced by a Sudanese man named Jubril Aminu.
Okorocha's spokesman blamed "those who wrote 74 petitions against Okorocha just to blackmail him and to incite some AGENCIES against him" for the posts.
His spokesman is referencing fraud charges against Okorocha. Nigeria's Economic and Financial Crimes Commission (EFCC) arrested Okorocha on May 24, 2022, for alleged diversion of public funds when he was the governor of Imo State in southeast Nigeria. The agency said he diverted about N3 billion (about $7.12 million).
But Okorocha denied any wrongdoing and claimed that his arrest was aimed at preventing him from participating in the screening for APC presidential hopefuls. He claimed the agency was doing the bidding of "certain people" who did not want him to contest for president and alleged that the agency was petititioned to arrest him close to the date of the presidential primary.
The EFCC denied Okorocha's allegations.
Okorocha was arraigned on May 30 for "diversion of public funds and properties" and received no votes in the primary in early June.